Bipedal Body, The Downside of Upright
Bipedal Body, The Downside of Upright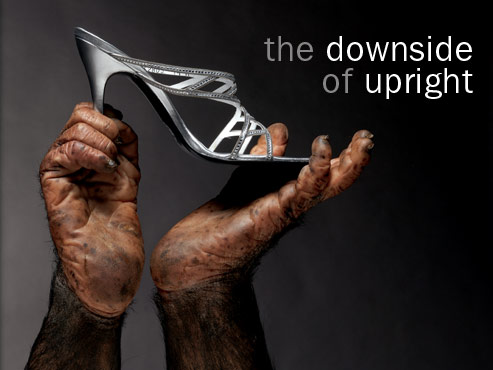 All those aching backs may be trying to tell us something: It's part of the price we pay for walking on two legs.
Get a taste of what awaits you in print from this compelling excerpt.
In Karen Rosenberg's laboratory at the University of Delaware, a room packed with the casts of skulls and bones of chimpanzees, gibbons, and other primates, one model stands out: It's a life-size replica of a human female pelvic skeleton mounted on a platform. There is also a fetal skull with a flexible gooseneck wire. The idea is to simulate the human birth process by manually moving the fetal head through the pelvis.
It looks easy enough.
"Go ahead, try it," Rosenberg says.
Turn the little oval skull face-forward, and it drops neatly into the pelvic brim, the beginning of the birth canal. But then it jams against the protrusions of the ischial bones (those that bear the burden during a long car ride). More shoving and rotating, and it's quickly apparent that the skull must traverse a passage that seems smaller than itself, cramped not only by the ischial bones but also by the coccyx, the bottom of the tailbone, which pokes into the lower pelvic cavity. Only by maneuvering the skull to face sideways in the middle of the canal and then giving it a firm push, does it move a centimeter or two—before it gets hung up again. Twist it, jostle it: The thing won't budge. Rosenberg guides my hand to turn the skull around to face backward, and then, with a hard shove, the stubborn cranium finally exits the birth canal.
"Navigating the birth canal is probably the most gymnastic maneuver most of us will ever make in life," says Rosenberg, chair of the university's department of anthropology. It's a trick all right, especially if there's no guiding hand to twirl and ram the skull. And the neat two-piece model doesn't even include the broad, rigid shoulders of the human infant, a legacy from our apelike ancestors who, some 20 million years ago, evolved wide clavicles that allowed them to hang suspended from branches and feed on fruit. To follow the head, a baby's shoulders must also rotate two times to work through the birth canal; they sometimes get stuck, causing injury to part of the spinal nerves that control the arms.
Suddenly I understand as never before why it took 36 hours, two doctors, and three shifts of nurses to safely deliver my firstborn.